With the average cost per disposable camera around $15 plus another $12 for development, you'd think there would be a place to buy them in bulk for a discount. But the reality is there just aren't that many great options for bulk disposable wedding cameras. The prices have dramatically increased since the late 90s, early 2000s when disposables were all the rage. We've searched far-and-wide and the following is the best we could find. If you've found a better option, please leave a comment and we'll feature it!
Later Cam (Disposable Wedding Cam App)
Later Cam turns your phone into an old-school disposable camera. We design a custom wedding cam using your invitation or engagement photos. Guests shoot on their iPhone or Android phones. It's about half the cost of disposable cameras and so much easier!
Custom Camera Collection ($12.40 per cam)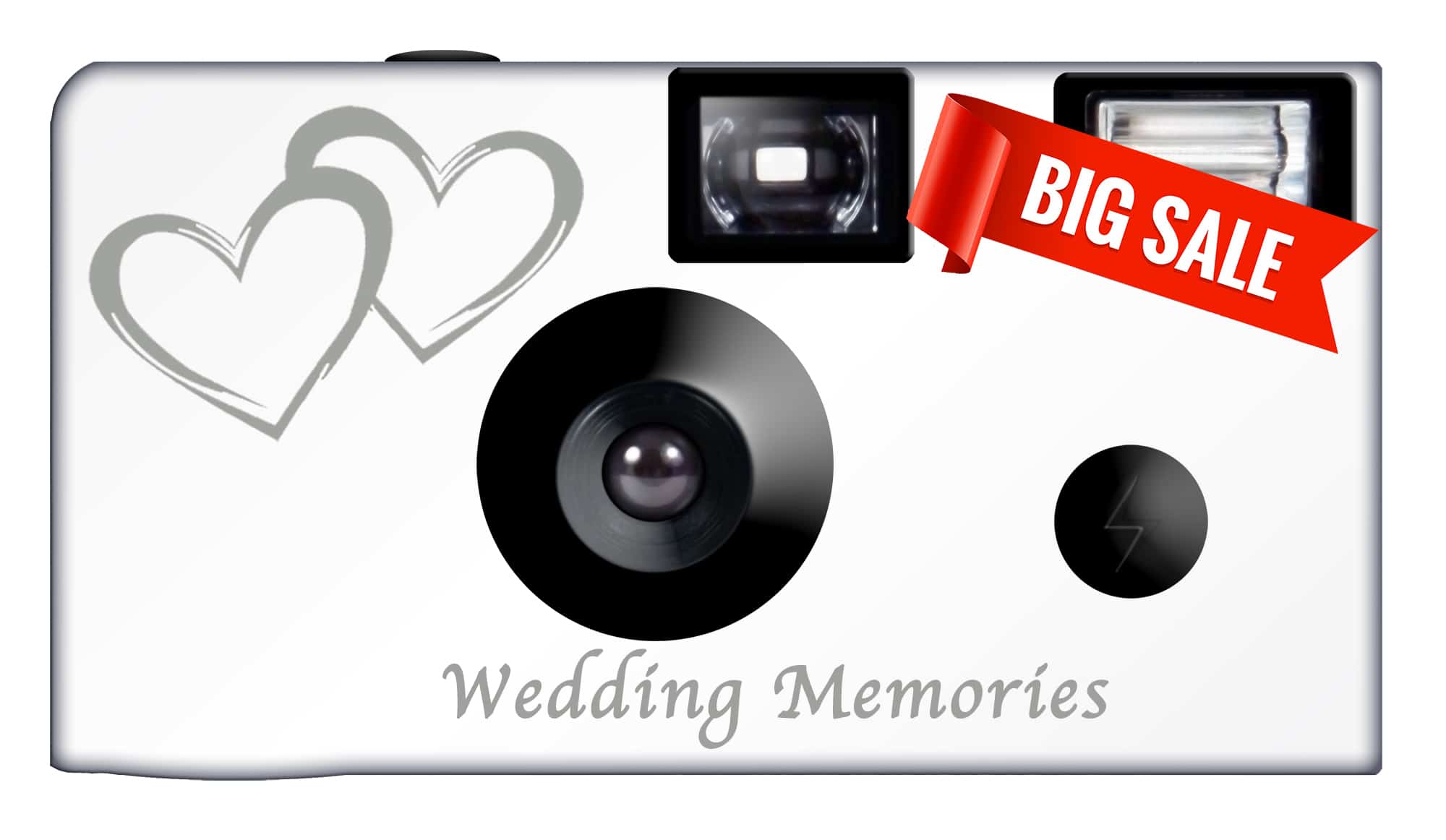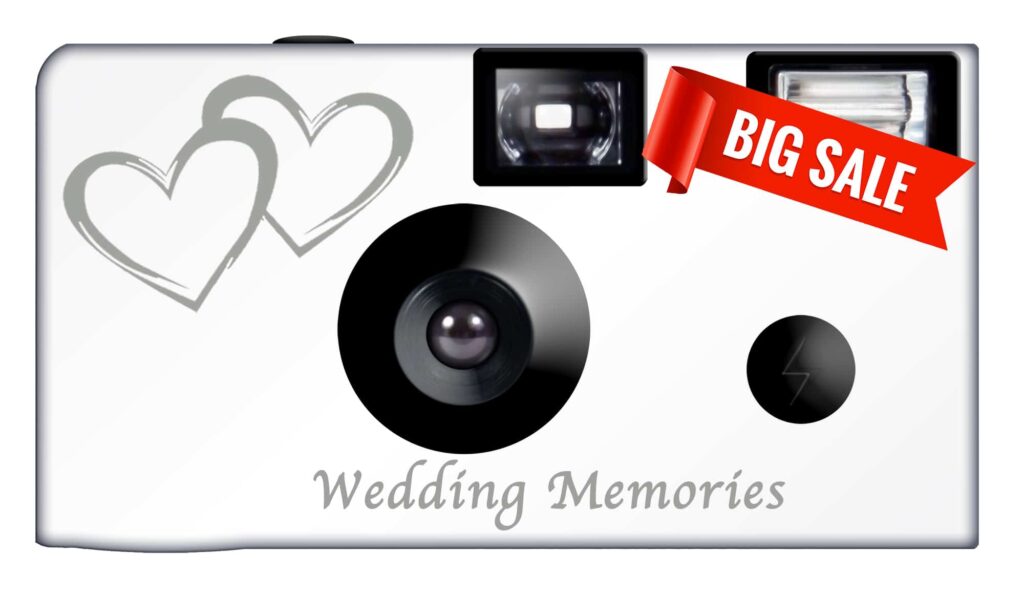 The CustomCameraCollection.com website allows you to order semi-custom disposable cameras with various themes. As of publishing this post, they currently have wedding disposable cameras on sale for $10.99 each. They look like decent cameras containing Kodak 400 film, the same as major disposable camera brands. If you're based in the USA, shipping looks to be $13.90 on 10 cameras, for a grand total of $123.80 or $12.40 per camera. Each camera has 27 exposures.
Amazon ($21.33 – $21.50 per cam)
If budget isn't a concern, Amazon is probably your best bet for disposable cameras. They offer pretty much every major brand including Fujifilm disposables for $21.50 each and Kodak disposables for $23.97 each.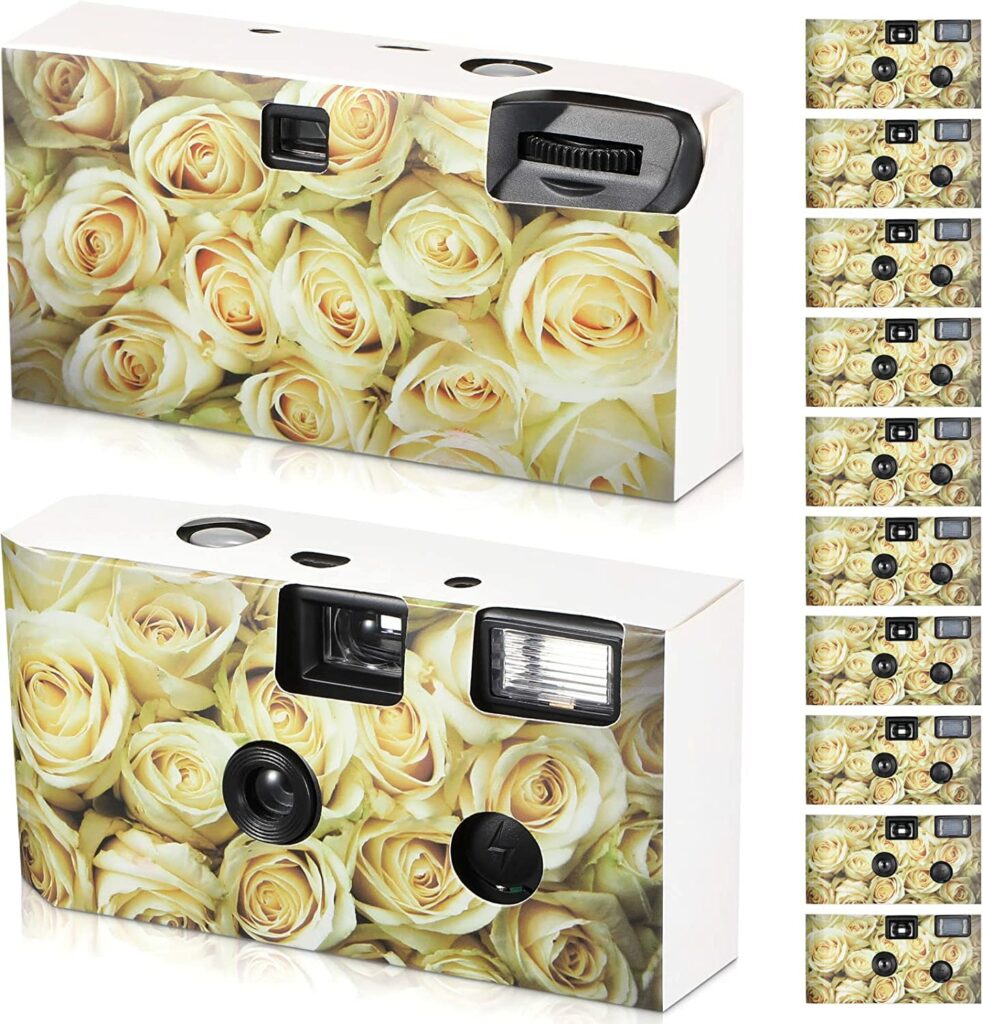 There are also a couple sellers selling bulk-pack semi-custom wedding disposable cameras like these floral cameras which end up being $21.33 each ($256 for 12). However, some of the reviews say these aren't the most reliable and it's probably best just to stick with Kodak or Fuji.
Local Pickup at Walmart ($14.88 per 27-exposure cam)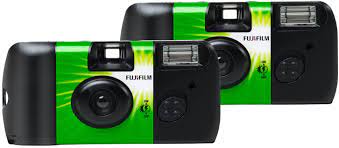 Walmart and Target are typically the cheapest place to get disposable cameras. They offer both Kodak and Fuji cameras which are considered the best in the business. Keep an eye on these two as their prices are always fluctuating.
As of writing this post, Walmart is currently the winner at $14.88 per camera or $148.80 for 10 cameras. Each Fujifilm camera has 27 exposures for a total of 270 photos for 10 cameras. But don't forget to add development which adds another $120-150 for 10 cameras, at least.
Alibaba ($9.80 per 18-exposure cam)
Alibaba can be tricky as shipping can be slow and unreliable, and if there's any kind of performance issue (e.g. the film inside isn't very good) you don't have much recourse. In general we'd suggest staying clear of this option but figured we'd at least cover it.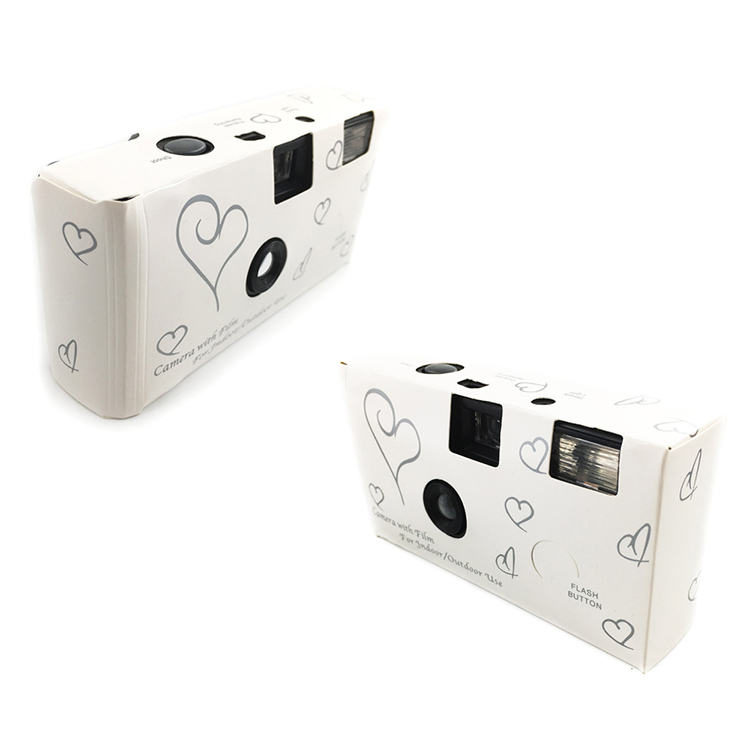 Alibaba operates two websites: Ali Express which is kind of like Amazon for ordering small quantities of items directly to your house and Alibaba.com which is their wholesale end.
On Ali Express, there really aren't any great options for disposable cameras in bulk. But on Alibaba.com there's a listing for wedding-themed disposable cameras for $3.50-$5.60 each plus shipping. We reached out to the seller for a shipping quote on 20 delivered to the Boston area — they quoted us $9.80 per camera for only 18 exposures per camera, with delivery included. From a strictly cost-per-exposure basis, we wouldn't advise these cameras as they're also likely to use low quality film. (Kodak disposables use Kodak film, one of the best in the business.)
brought to you by
Later Cam
Turn your phone into an old-school disposable camera!
Learn More