Back in the 90s, during the glory days of disposable cameras, getting them developed was cheap. Nearly every CVS and Walgreens had a photo lab and processed disposable cameras and film on-site. "1 hour photo" (where film and disposables were developed in an hour or less) was common because so many people used film and disposables. In 1999, over 140 million disposable cameras were sold and in 2011 that number dropped to only 30 million.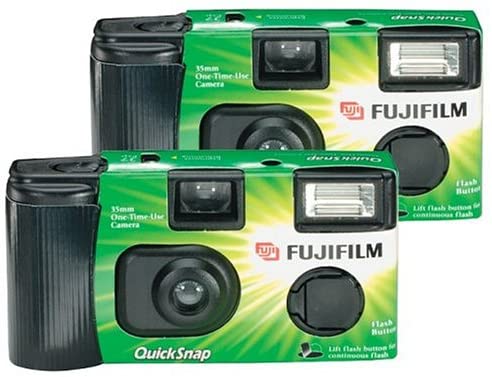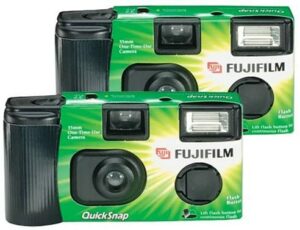 With the invention of digital cameras and then smartphones, photo labs moved offsite (some to 3rd parties, like Walmart) to cut costs. Because less people were using film, prices went up because companies could no longer take advantage of the massive volume. Even though film and disposable cameras are now on the rise again, the cost hasn't dropped.
How Much Do Disposable Cameras Cost?
Even though development isn't common locally anymore, most drug stores still sell disposable cameras.
Amazon Prime is a convenient source for disposable cameras, yet Amazon is one of the more expensive places to buy a disposable camera. As of writing, Fujifilm's 27-exposure cameras are $20.92 each on Amazon.
The same Fujifilm camera is $15.99 at Target.
Walmart used to be cheaper than Target but as of July 2022, Target has the cheapest disposable cameras since Walmart now charges $19.99 for a Fujifilm disposable!
If you're traveling, gift shops sometimes sell disposables. A friend of mine said she spent $25 per disposable camera at a gift shop in Vegas!
How Much Do Disposable Cameras Cost to Develop?
The average cost to develop a disposable camera in 2021 is around $15. Most labs charge extra for prints.
One of the best labs in the USA is The Dark Room yet they charge $14 plus $5.95 shipping for a total cost of $19.95. This doesn't include prints which are $8 extra for a total cost of $27.95. Unlike Walmart and others, you actually get your negatives back from the Dark Room.
Walgreens rate is $14.99 for up to 24 photos with pickup in store in 3-5 days. Prints are extra.
Walmart doesn't publish its prices online. You have to visit a local store to find out pricing and the process takes at least 1 week. I visited my local store and was told the cost for 27 exposures is $10.96 which includes the prints.
What's the Total Cost of a Disposable Camera?
A disposable camera itself might cost $15.999 at Walmart or $15 at Walgreens but once development is factored in the true cost is over $20. Here are some scenarios:
If you buy a disposable from Target for $15.99 and have it developed at The Dark Room, the total cost is $35.95 plus prints.
If you buy a disable from Target for $15.99 and have it developed at Walmart for $10.96, the total cost is $26.95 including the prints.
If you buy your camera from Amazon for $20.92 and have it developed at Walgreens for $14.99 the total cost is $35.91 plus prints.
Where's the Cheapest Place to Get Disposable Cameras Developed?
Target is the cheapest place to buy disposable cameras and have them developed, while Walmart just recently was the cheapest. If you only want 4×6 prints, having them developed at Walmart is your best bet because unlike high-end labs like the Dark Room, they don't return your negatives anymore. At Walmart, development is only available in the store and at my local store, the cost was $10.96 as of October 2021. If you buy your camera at Target and have it developed at Walmart it's $26.95. Unlike most other labs, Walmart also includes a set of 4×6 prints.
Turn your Phone into an Old-School Disposable Camera
Later Cam turns your phone into an old-school disposable camera. At just $12.99 for 27 photos with free shipping it's less than half the cost. You can choose from several camera designs, the print quality is way better and if you're hosting a wedding or event we offer bulk discounts as low as $8.98 per camera with the prints included.
brought to you by
Later Cam
Turn your phone into an old-school disposable camera!
Learn More